Click *HERE* for HITS Accomodations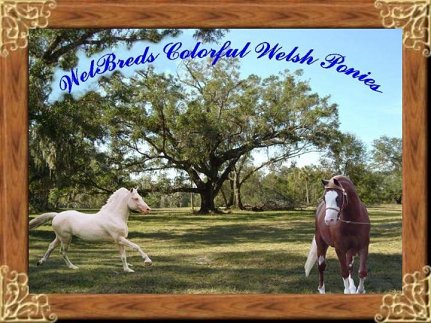 WelBreds Colorful Hunter Ponies: philosophy
I strive to breed the perfect hunter type pony with color being the icing on the cake.
In breeding high quality hunter ponies, there is a specific type that I wish to produce. As there is not a pure breed that consistently typifies this type, I cross a 13.2h. – 14.2h. mare, whose conformation, movement and temperament is outstanding; with a "Champion" First Premium ASPR double registered Section A Welsh pony from the best bloodlines available. Our "Razz" also received the highest possible score for his jumping at the ASPR inspections. These ponies are bred to jump.

The resulting foals are spectacular with dishy heads, good length medium well set necks (not too high or too low), short backs, wide deep chests, well developed hind ends with a slightly sloping croup and a medium to low tail set. With great substance, balance and good bone, these are sturdy ponies with an elegant look. Their movement is effortless and balanced with great extension and suspension however they still are flat-kneed movers true to hunter type. These babies are all out of correct T.B. cross/pure mares hence our farm name WelBreds (Welsh x Thoroughbred). OH I almost forgot – Many of our babies are palominos or buckskins. These colors are now very popular in the hunter ring.

We now have a Warmblood Pony Registry that will inspect these hunter type ponies and register them as sport ponies. The American Sport Pony Registry (ASPR) gives these fine cross bred ponies immediate legitimacy by rigorously inspecting for type and movement. You can be sure my ponies are bred to pass this inspection and they will also model for you. They can be registered half – Welsh with the WPCSA association as well.
American Sport Pony Registry Breed standards
What is an American Sport pony? An American Sport pony is a pony in the general range of 13.2-14.2 h that looks and moves like a small horse, capable of competing in the Olympic disciplines of Jumping, Dressage, and Eventing, as well as in Driving. It is not your traditional Thellwell type of pony, but rather is much more athletic and horse-like in appearance and ability. The term "American Sport pony" is considered a type, not a particular breed of pony (with the exception of ponies of Draft blood being excluded) and therefore we find sport ponies made up of everything from Welsh to New Forest to Thoroughbred bloodlines. Movement is paramount to the quality American Sport pony, and that movement should have great suspension, articulation, impulsion and elasticity. The type does not strive for the traditional "daisy-cutter", flat-kneed movement that is so popular in the hunter ring today, but it is not excluded as a factor within the American Sport pony Registry. Therefore, the "hunter type" of pony, especially one which excels in jumping and has the conformation and "look" the type strives for, can be considered an American Sport pony. All ponies accepted into the Registry must undergo an inspection and be DNA-typed. It is in this way that pedigrees can be documented from this point forward, even with breeding stock that is currently of unknown parentage. Stallions accepted into the Registry undergo additional performance and progeny requirements (detailed on our Rules & Regulations page).
Owners: Louise & Brad Mentzer

6589 NW 223RD ST

Micanopy, Florida 32667

Phone: (352) 591-5007

Email: louise@welbreds.com
AI & Video available, email Louise for video




Free Web Counter

hunter jumper,half welsh pony,cremello,palomino,paint,sabino,tobiano,pinto,welsh,morgan,arabian,arab,quarterhorse, thoroughbred,pony,ponies,breeding,hunter pony,A circuit,half welsh,WTBX,show pony,Welsh TB cross,welbreds,Sunfire Farm,Ocala,Florida,AI,artificial insemination,live cover,color guarantee,creme gene,creme de mint,razzle dazzle,children's pony,dressage,stallion,broodmare.